Tying the knot in a library is enough to give any reader goosebumps and the wall to ceiling bookcases at this venue were the perfect backdrop to this couple's love story. The bridesmaids' embroidered dresses, their gorgeous bouquets and the custom-designed, black and white wedding dress made Nicola and Jason's day, truly, one for the books! 
Centre for the Books a must visit if you're looking for a wedding with a fairytale edge to it. What an honour I had to capture this story! – Yolandé Marx, photographer
Our Story
We met when I was in Matric. Jason went on a blind date with my best friend, Shelly, and let's just say it was not a match made in heaven! After their dinner, they ended up going to a club, where she hooked up with his best friend, Andrew. Shelly and Andrew are now married, so I'd say that it all turned out for the best. I met him a few months later and we hit it off. We dated for about five and a half months but we were both young and immature and the relationship ran its course. Fast forward three years and it turned out that we weren't quite done with each other yet. We met up again at The Shack – a longstanding, dodgy dive-bar in town – and now, almost eight years later, we're still going strong!
The Proposal
He proposed conversationally – we were watching a Marc Maron stand-up special on Netflix and it gave us both soft and squishy feelings. I had originally planned for us to go to Japan for my 30th birthday and he suggested that we elope there. I, ever the practical one, reminded him that we'd still have to have some form of "proper" wedding. Things kind of evolved from there, so there was no planned proposal, but more like the small moments that added up to us being engaged. Which is our style, really.
Our Style
We wanted our wedding to be romantic, casual and friendly. I'm a graphic designer, so I find it much easier when there is an overall concept to something I'm working on. We knew our song would be The Book of Love and the concept of a fairytale romance, love stories and, more literally, books came from there. A lot of love to my bridesmaids and all the family who helped out, but most of the credit goes to Samantha, from Pretty in Stains. She was there through every aspect of the day and absolutely nothing was out of place!
Our memorable moments 
The ceremony was awesome and being in our little bubble, despite the people around us, while looking the best we ever have. – Jason
Watching Jason's face as we read our vows – so much love right there. The rest of the day was a warm, happy blur for me. – Nicole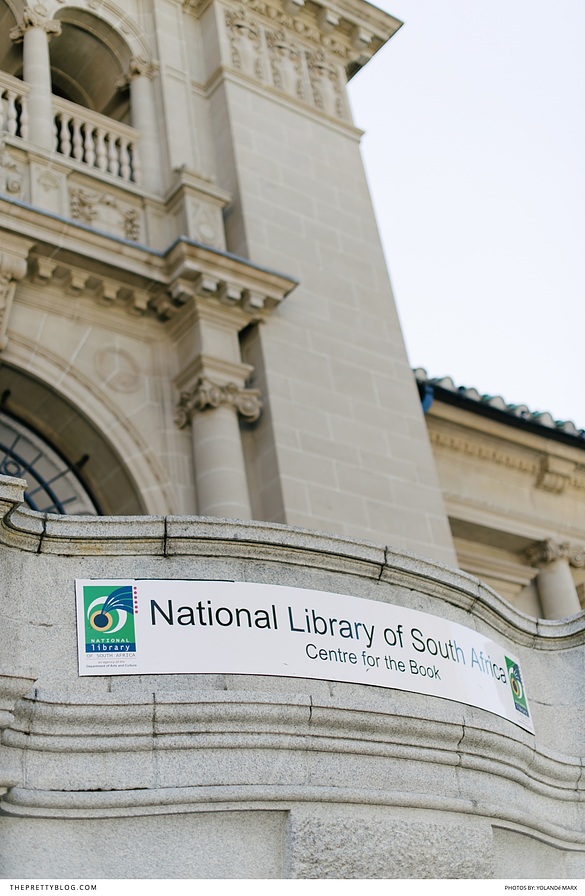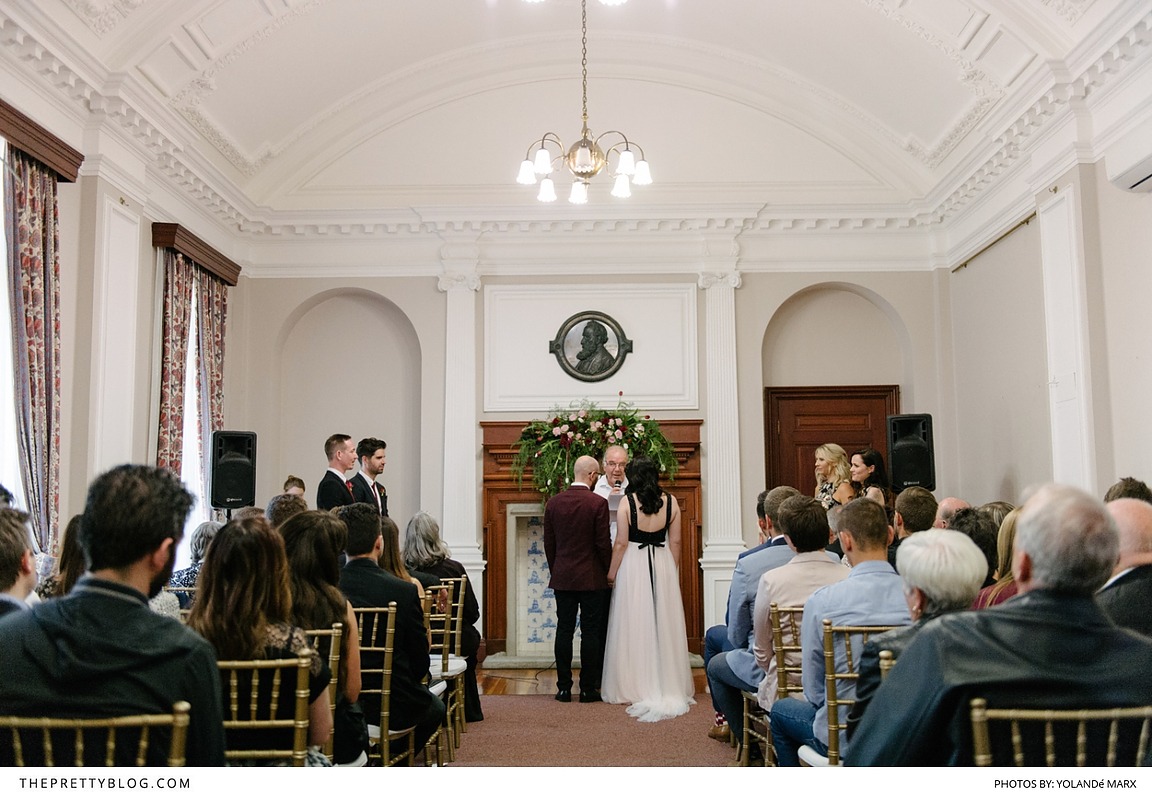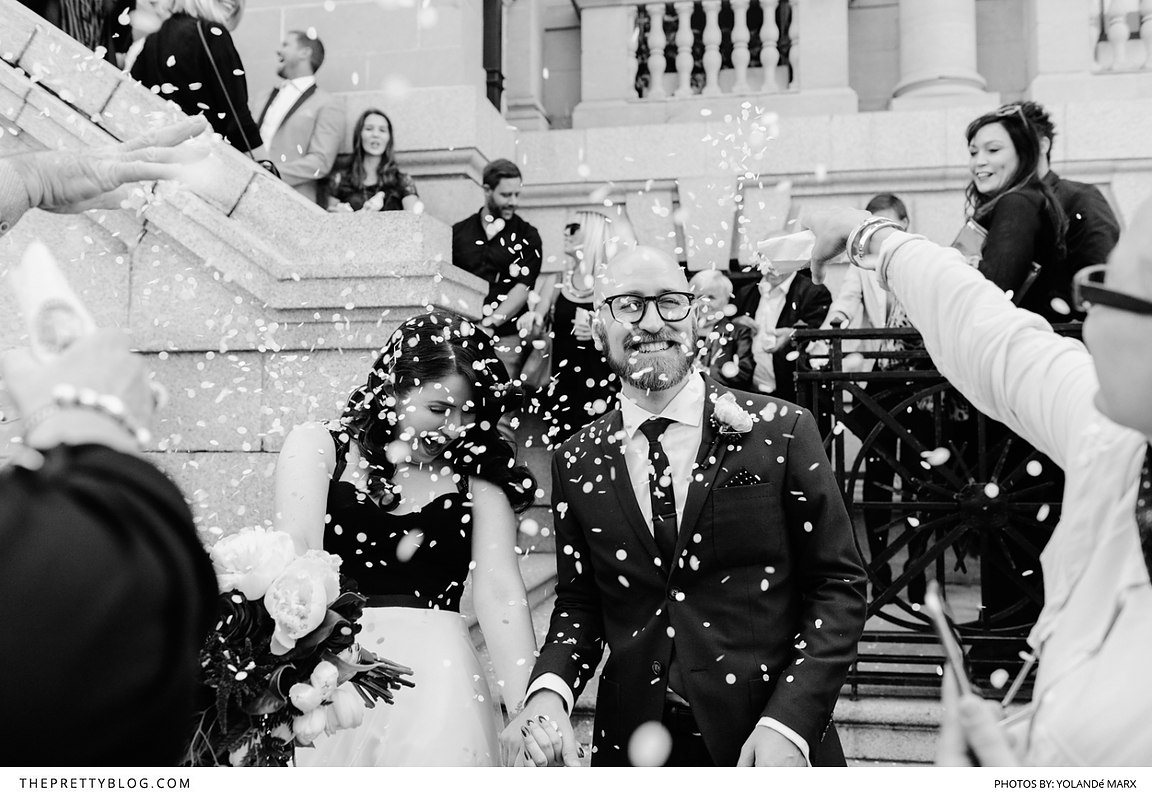 The Dress
I had it custom-made by Janita Toerien. I knew that I didn't want a typical white dress, but still wanted something that would feel bridal and would flatter my figure. I'd bought the bridesmaids' outfits first and took all my cues from there in terms of colour, beading and so on.
Tips for planning 
Get a wedding planner – even if you plan on keeping it small! I tried to organise everything myself to save costs and it was almost my undoing. There are so many elements to a wedding day and more things will keep creep up, demanding your attention. Having an ally that "gets" you is invaluable.
The DIY
I designed all the wedding stationery and had books made as our wedding invites. I also had lapel pins made as the wedding favours and made the cake topper and table numbers.
| | |
| --- | --- |
| | This post has been curated from the Source listed above. All content and images remain the property of the original copyright owner. Please visit their website for more articles like this. |